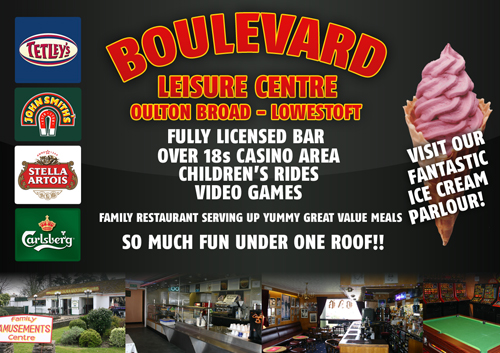 Come and have a great time at the Boulevard Family Leisure Centre in Oulton Broad
The Boulevard Leisure Centre is located next to the yacht station & entrance of the ever popular Nicholas Everitt Park in Oulton Broad. The Boulevard Leisure Centre comprises of fully licensed free house, Family Restaurant and Amusement arcade. In the Boulevard bar drinks served include; Calsberg, Stella, John Smiths, Tetley and more, in a relaxed and intimate atmosphere, with music and families are more than welcome. The bar has a late licence and is available for private hire, parties & birthdays etc.
The family restaurant serves great quality and value food, including daily meal deals, coffees, lattes & cappuccinos using only freshly ground Brazilian beans. The restaurant also serves yummy snacks such as; Hot snacks, continental pastries, waffles and more. When it gets a bit too hot, you can cool down with an Ice cream from our ice cream parlour. The Amusement arcade will keep you amused for hours with over 18's casino area, children's rides, video games and now, the Watertbalz for kids to enjoy [as seen in the picture]. So, if you are looking for entertainment in Oulton Broad in Suffolk look no further than the Boulevard Leisure Centre.
Telephone Number: 01502 572501